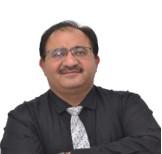 " Education is the passport to the future, for tomorrow belongs to those who prepare for it today "
Vedanta Journal Of Research and Multidisciplinary Studies is one such place that provides an appreciative platform and environment for researchers where they can experiment and inculcate their thoughts into a splendid piece of articles and journals. The journal aims at different aspects of Science, Commerce and Arts. Its is beneficial for the Worldwide Research Community to communicate and synchronise their research activities leading to growth and development of the society. 
I wish to express my appreciation to the workforce behind this successful publication of the Journal. I am confident that with hard work, sound management and persistent commitment.
Dr. Prashant Madaan
Mentor Principal